2414 Towncrest Dr.
Iowa City, IA 52240
Mission: to support the wellness and growth of members of our community by offering affordable space for educational and personal development activities.
Everything from yoga and Qi gong  to continuing education classes, club meetings, musical gatherings, or family parties can be hosted in our beautiful spaces.
Our two attractive professional meeting rooms have seating for up to 30 people each, with chairs, tables, a/v equipment and a kitchenette available. There is plenty of free parking and we are only one block from a bus stop. Conveniently located 1/2 block from Iowa City Hospice and the Church of the Nazarene to the west, US Bank and Towncrest Dental to the east.
Each room includes:
projection screen and digital projector
4′ tables and stacking chairs
cabinet/counter for storage or display
track lighting with dimmable LED bulbs
small windows
Soundproofing from adjacent areas
WiFi
independent climate controls
Sycamore East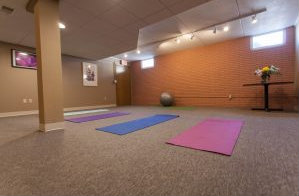 24 x 30 foot carpeted room

Warm, quiet, comfortable
Sycamore West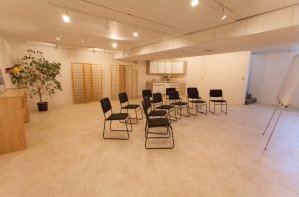 30 x 30 vinyl floored room

kitchenette including microwave, fridge, coffee maker, and hot pot

bright, clean, spacious
Rooms are accessed by a stairway down from the exterior South side of the building at 2414 Towncrest Dr and from inside Towncrest Natural Health clinic.
Unfortunately there is presently no wheelchair access to this area of the building.
There are two newly remodeled restrooms available.
Room must be booked at least one week in advance.