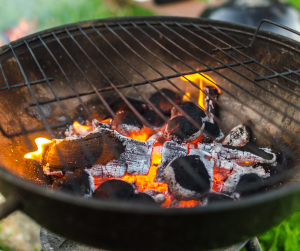 Grilled Vegetable Salad is great to do after you have cooked your meat and your grill is still hot, either charcoal or gas. Can be served warm/room temperature or chilled. Makes great leftovers. If cooking on gas, have the flame medium to low. If on charcoal, the fire should be cooler
The amounts in this recipe are approximate, as you will make as much as you like. Same goes for the vinegar and lemon juice.
Grilled Vegetable Salad
2-4 red, green, or yellow bell peppers, cut in 2 inch wide strips, end to end
2-4 large red onions, sliced in 1/2 t0 3/4 inch slices
3-4 large portobello mushroom caps, brushed clean and kept whole
4-6 medium zucchini or summer squash, cut into 1/4 to 1/2 inch slices, lengthwise
1/4 cup olive oil, more or less
2-4 T Balsamic vinegar
lemon juice from 1 fresh lemon
Zest of 1 lemon
optional green or black olives
salt and pepper
microplane grater to zest your lemon into really fine shreds
Large cookie sheet or baking tray
Tongs for grill
4-5 Bamboo skewers, soaked in water for 1 hour
Gas or charcoal grill
Thread each slice of red onion onto a thin bamboo skewer to keep the rings together. Don't worry if they break up a little.
Prep your veggies and put them on a large cookie sheet.
Rub all veggies with olive oil on both sides using your fingers.
Place them on the grill and watch closely so things don't burn. Turn them when you like. I like to keep things from getting too soft.
When done to your liking, place back on baking tray and bring in the house.
Take onions off skewers and separate the rings. Rough chop onions, mushrooms, zucchinis, and bell peppers as needed. Place all into a large mixing bowl.
Sprinkle balsamic vinegar and fresh lemon juice over everything, as well as salt and pepper to your liking.
Finish by grating lemon zest over the whole thing and tossing. I'd add the olives at this point and taste to correct seasoning.