Fall Vegetable Soup recipe
Fall is time for soup! Have you noticed that you get a hankering for soup when the weather gets colder? I'm going to show you how to whip up a quick and satisfying soup while you get ready for work in the morning. Or anytime.
Tools:
Soup Pot, preferably 6-8 quart. Or instant pot.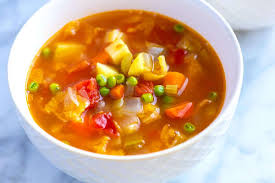 Knife and cutting board
Big spoon for stirring
Ingredients:
Onion
Garlic if wanted
Carrot
Celery
Bell pepper if wanted
other veggies: squash, zucchini, green beans, canned tomatoes, cabbage, or whatever else you have on hand or want to eat.
Olive Oil or other oil or fat such as bacon fat, butter, or lard
a liter or quart of homemade chicken or bone broth, or canned broth or bone broth
water in equal amount to broth
salt, pepper, and whatever other seasonings you want (see below)
optional: rice, barley, or other grain or pasta in small pieces
optional: cooked chicken or other meat
Method:
Chop your onion, carrot, celery and optional bell pepper into 1/2 inch squares. Mince or press garlic.
Heat your oil or fat in the big pot and sauce your chopped veggies with a little salt till they are getting cooked. Throw in the garlic.
Cut up the rest of your veggies into larger chunks and drop them in with a little salt and pepper and stir them around till they get warmed up a bit.
Pour in your broth and some water to cover everything and then up to about 2-3 inches above the veggies.
Bring the whole thing to a simmer on medium high and cook on low about 10 minutes. Then add your grain or pasta if desired, and meat if desired.
Simmer the pot about another 15 minutes on medium low till grain or pasta is cooked through. Adjust the seasonings.
This is the point at which you could go in a number of directions by adjusting seasonings:
For Italian: add canned tomatoes, basil, oregano, and thyme
For Mexican: add canned tomatoes or tomato paste, cumin, chili powder, and mexican oregano
For Japanese: season with soy sauce and fish sauce.
For Thai: add a can of coconut milk,
Lemongrass, Kafir lime leaf, fish sauce to taste, or curry powder
Add seasonings to your liking, simmer a little longer. You could puree the whole thing before adding meat and grain. You could have just vegetables with no meat or grain. You could make it vegetarian without meat and maybe add tofu or egg for protein. The variations are endless. Look in your fridge and see what you've got and go for it! I hope you enjoy this Fall Vegetable Soup recipe as much as I do!